Ron Miscavige's former bandmates who worked with Ron for over two decades:
McHenry Ellis plays woodwinds—sax, flute and clarinet. A veteran Las Vegas musician, he has been at Golden Era since 1989.
Carl Leach has been lead trumpet with the Golden Era Musicians since 1993. He was the lead trumpet player for Tom Jones and played for more than a decade at the Flamingo Hilton Showroom in Las Vegas. He performed with Bob Hope, Bing Crosby, Ella Fitzgerald, Liza Minelli, Tony Bennett, Natalie Cole, Aretha Franklin, Diana Ross, Ben Vereen and on the Mike Douglas Show among the many credits of a distinguished musical career.
Russ Greilich is a sound engineer and plays saxophone. He performed as a professional musician in the San Francisco Bay Area and has been with the Golden Era Musicians for 30 years.
Tom McMurray has been a professional orchestrator and trombonist for more than four decades, the last 26 years as a musician at Golden Era Productions.
Ron Miscavige never worked steadily as a musician before becoming third trumpet with the Golden Era Musicians. Prior to joining the Church band, he played odd shows from time to time, but his main paying gig was selling pots and pans.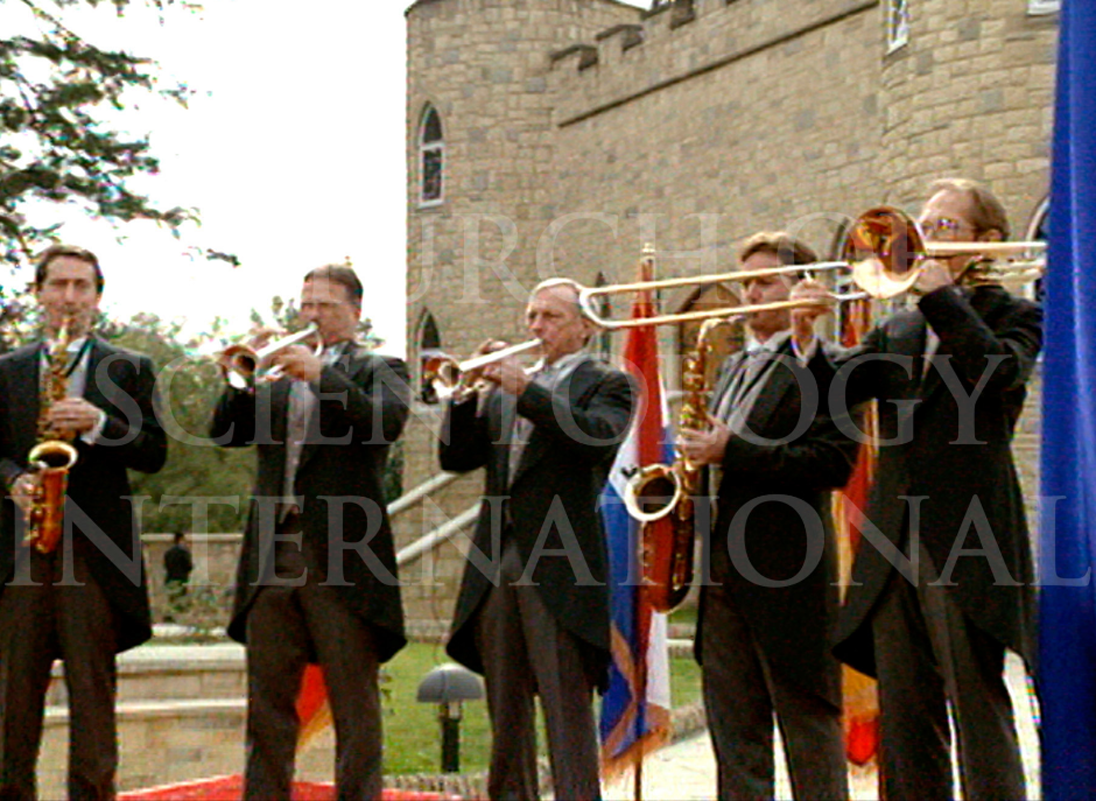 As a member of the Golden Era Musicians, Ron Miscavige had the time of his life with a gig most musicians only dream of, touring Europe and playing in exotic locations such as the Caribbean.
There was a major difference between Ron Miscavige and his former bandmates. As Tom McMurray put it: "Discipline, discipline, discipline. All four of us here come from a rugged school of demanding discipline and expertise. Ron Miscavige didn't have that. He didn't grow up with it. He saw no reason for it. And as a matter of fact, if you tried to impose that on him, you were in for an argument or a disappearance or a silent… not go along with it, you know." "Or he'd blow up," Carl said.
Ron Miscavige was described by his bandmates as "incorrigible."
Ron Miscavige was described by his bandmates as "incorrigible." Carl Leach explained: "When I first came here I realized that he played out of tune, he played poorly. And because I taught students through the years and got them to play professionally in Las Vegas, I knew what Ron needed and I took the time to write it out. And he would never do it. And no matter what advice you would tell him, he would never do it."
"The Music Director was always in there trying to help Ron understand modern music, the way the melodies go and the rhythm and things like that," said Carl. "It must have been at least a hundred times over the time span I was here. And he never, never got it…Ron refused to get it. He would have some excuse like 'Oh, that stuff is just crap.'"
"Ron would always drop out when his
part got difficult."
The musicians recounted how it was very hard to work with Ron Miscavige. explaining that when you have just a few horn players, it's really important that everyone knows their part. And yet Ron would always drop out when his part got difficult. His bandmates would ask "Why did you drop out?" And he'd say, "Well, I can't play that," and they'd say, "Well, that's why you practice, that's why you're supposed to practice." And Ron just refused to practice.
Then Ron would try to be their master of ceremonies to cover for his not being able to play. And that was even worse. According to the band, there were some real cringing moments. Ron once announced a Public Relations Officer and brought her to the stage saying, "And here she is, she dances on one leg, she stands on the other and makes her living in between." As McEnery put it, "Ron's sense of humor lacked only two things—sense and humor."
"Ron's sense of humor lacked only two things—sense and humor."
Carl said that after a certain point Ron was required to get a script approved before he was allowed to talk on stage. Ron's jokes got so old the band questioned "Why are we doing this?" He was offensive and not representative of the band. He made racial jokes and jokes about women that were very derogatory and base. The most offensive thing about Ron's humor was that it was always at the expense of somebody else, said Russ Greilich. "There'd be a dig or something. Ron seemed to get a delight and a pleasure out of it. Ron was like a crass carny, like a barker at the circus."
"And the other thing that I found really insulting was he had this little child's limerick that made use of the "N" word," Russ said. "And he would run around and chant this little limerick, singing it and stomping his feet and clapping his hands to the National Emblem March. And it was just vile stuff."
"Ron was like a crass carny, like a barker at the circus."
Even so, out of respect for his son, the bandmates put up with Ron Miscavige, working hard to help him and assist him to become a better person, a better musician and a better team member. Ron wasn't up for the task. He wanted to remain a forever crass, cranky, dilettante wannabe musician. That is the sad tale of Ron Miscavige.