The true facts about Ron Miscavige paint a very different picture than the one he portrays when he opens his mouth. Those facts undermine his fake self-portrait of a moral authority and kindly patriarch in an Ozzie & Harriet fantasyland.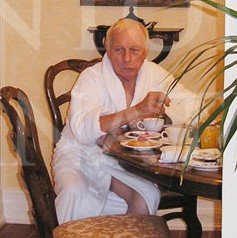 In addition to regularly cheating on his wife Loretta, Ron brutally and repeatedly beat her and their daughters, a truth that he cannot shake. As with most men who inflict domestic violence, Ron seeks to blame the victim and to shift fault to his late wife and two daughters. His own admissions, made contemporaneous to his beatings, belie his assertions that "It pains me to admit it now, and I regret ever doing it, but there were times when I punched Loretta. I never slapped or hit her in the face but, still, sometimes I did strike her. I might punch her in the arm or push her away when she was getting on me…."
But that account of his serial wife-beating suddenly imploded during an appearance as a guest on Megyn Kelly's The Kelly File, discrediting his entire "memoir." Pressed by Kelly on how many times he punched his late wife Loretta, Ron responded with the jaw-dropping admission that "Maybe all the time, over a 10-year period—would happen maybe once a month or something like that."
Even if one believes Ron's estimates of "once a month" over the course of a decade—his daughters say he beat their mother far more often, on average twice a week—that comes to a staggering 120 times that he admits to punching his late wife!
Ron further admitted to Kelly that he punched his wife in the back, where before he had been insisting in his book that he had only struck her occasionally on the arm. To punch his first wife in the back probably means she had her back turned to him and was running away.
Then there is Ron Miscavige's history of debauchery and an arrest for attempted rape. His daughters have said they believe their father is a bully of women, a sexual predator. Their mother told them Ron was a serial philanderer, often cheating on her with her friends, while also spending time with prostitutes and piling up phone bills calling sex lines.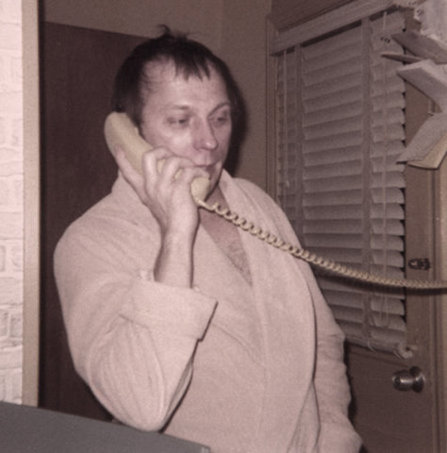 Their mother also told them that when Ron traveled around as a Vollrath pots and pans salesman in Upper Darby, Pennsylvania, and nearby New Jersey towns selling cookware to nurses and housewives, he would hit on women once inside their homes.
That's why their mother believed Ron was guilty when he was arrested for attempted rape in 1985.
After a sex-crime victim picked Ron from a photo lineup, the police arrested and charged him with "criminal attempt at rape, indecent assault, simple assault, recklessly endangering, criminal trespass and burglary" for an attack on a woman at an apartment complex outside of Philadelphia.
After being accused of a serious crime, Ron had no one to turn to in order to help him but the son he now falsely vilifies. His younger son, David, retained top lawyers to defend Ron. While the Church will not debate Ron's guilt or innocence regarding these charges, the police report on the attempted rape undermines Ron's attempt to whitewash this horrific incident by claiming that the matter was merely a case of mistaken identity.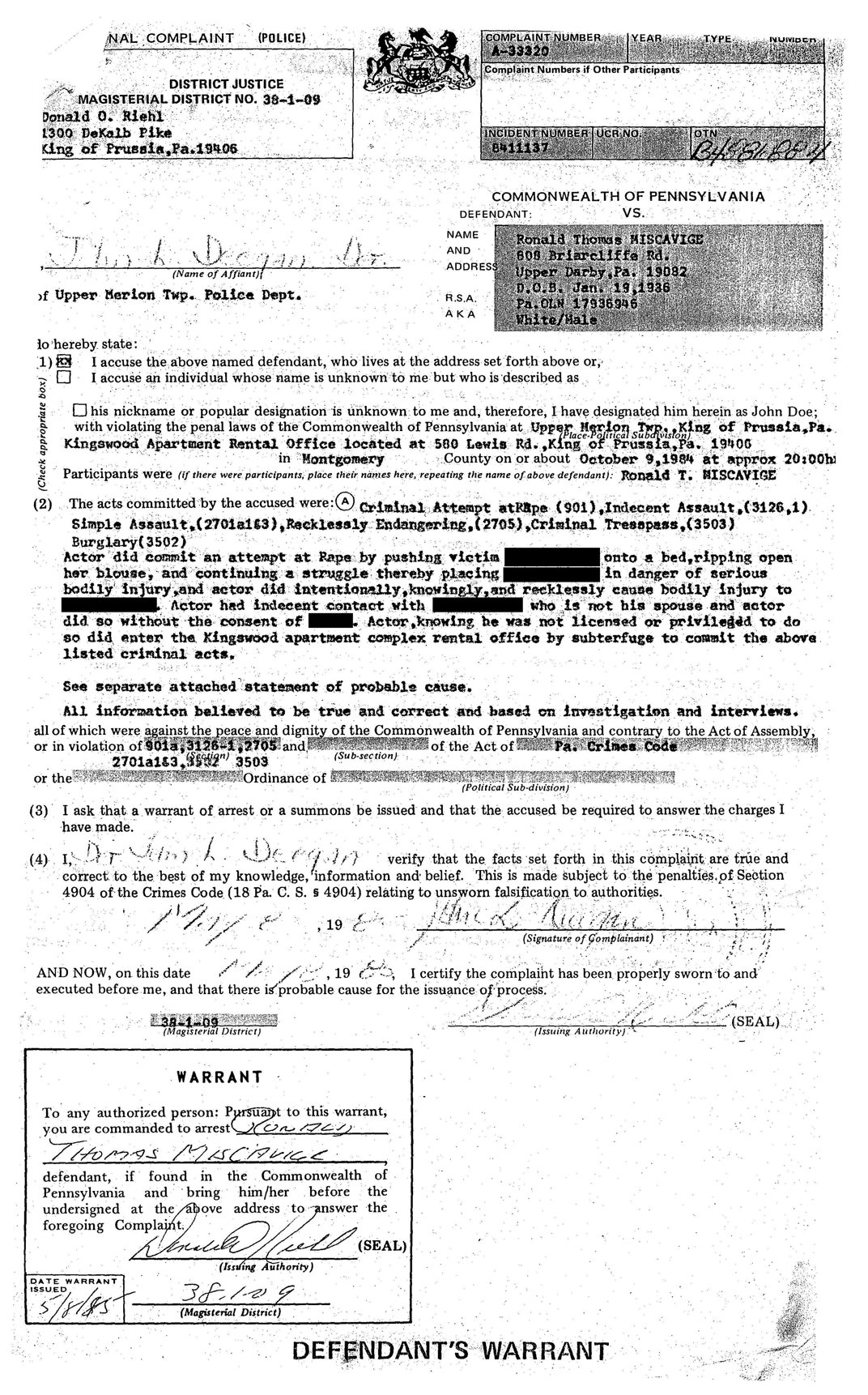 The police report details evidence showing that Ron admitted to being on the premises on the occasion of the crime, that Ron matched the description of the assailant, and that Ron's car was identified by a witness.
As a condition for helping him, Ron's younger son insisted that his father agree to join the Church's religious order to straighten out his life and stay out of trouble. Within months of the charges being dismissed, Ron joined the religious order, working as a trumpet player at the Church's Golden Era Productions, where he remained for 27 years and, for the most part, kept out of trouble.
Now, Ron is out of the religious order and there is no saying what he is up to. One can only guess. Aside from those years where he had moral restraint from his younger son, Ron's history is that of wife-beater, someone who abused his own daughters, a philanderer with an arrest for attempted rape. That's the shameless true story of Ron Miscavige.