Scientology teaches respect for all faiths, something Ron Miscavige could never follow in his life. It's stunning how St. Martin's Press agreed to publish and promote a book by an anti-Semite like Ron. He's even on tape. In a 2011 interview to which he consented, Ron refers to his former next-door neighbors as "the Jews." (Hear the audio clip in full, unedited, below.)
WARNING: GRAPHIC CONTENT
Ron Miscavige's comments are extremely offensive.
"The Jews"
St. Martin's Press went ahead with Ron Miscavige's "memoir" after being told in great detail about his anti-Semitism and the slurs he uttered to his fellow band members. Of course, none of that is in his book because it's a whitewash.
Many of the band members he denigrated with slurs are of Jewish descent. Some tragically had family members die in the Nazi Holocaust. Ron was repeatedly asked to stop with the slurs, but arrogantly continued to utter offensive names and jokes anyway.
The website TMZ recently exposed the fact that Ron, to be cute, would dress up to look like he was wearing a Nazi uniform.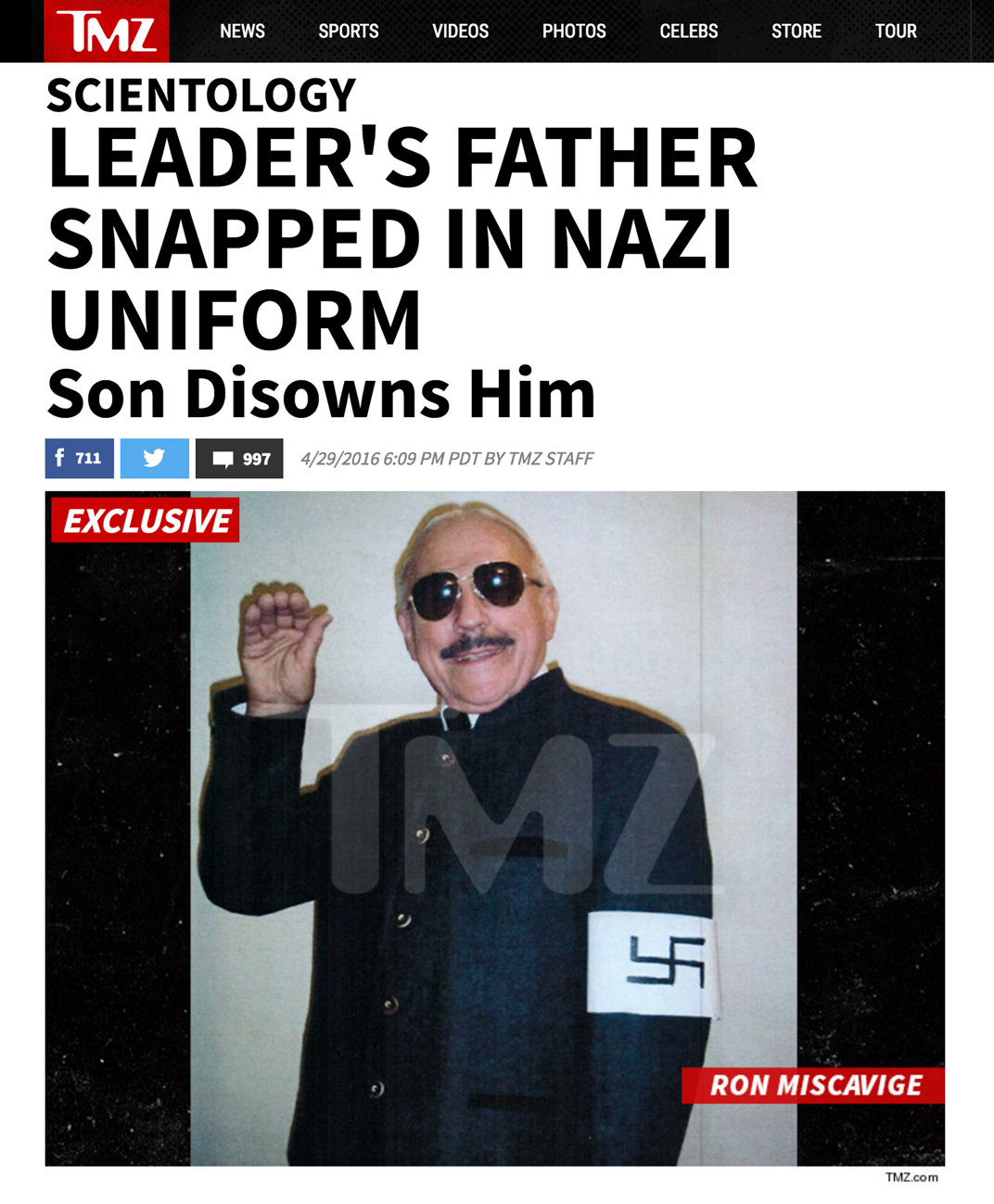 Ron believed it was a hilarious joke. In fact, his supervisor, who is Jewish, told St. Martin's Press in a letter that she saw him dress as a Nazi on numerous occasions despite being disciplined. She added that Ron's nickname for her was "Jew bitch."

Other fellow band members who are of Jewish descent say they were called the highly offensive terms "kike" and "sheenie" by Ron.
Ron also thought it was especially hilarious to ask people to take his "Grammar Test." Ron would ask "what the present tense is of sought?" When they would reply "seek" he would immediately say "Heil" while raising his arm in Nazi Party salute.
The real Ron Miscavige isn't the sanitized cuddly old man St. Martin's Press and its parent, Macmillan, are trying to sell. He's really an angry anti-Semite full of hate, a religiously intolerant man.

It is no surprise his son disowned him. Ronald's anti-Semitism and other inappropriate behavior were disgraceful in the eyes of his son and showed he couldn't be trusted to behave. That's exactly what compelled Ronald's son to try to find ways to keep Ronald in check.