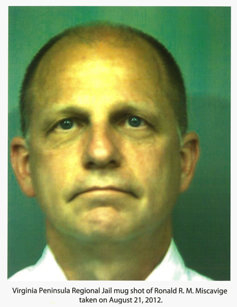 Ron Miscavige has been covering up for his namesake son for years. He covered up the abuse of his own daughters. He covered up Ronnie's arrest. He's covering up the exploitation of woman at massage parlors all over Virginia.
We don't know if he covered up the human trafficking victim Ronnie took advantage of. The 21-year-old heroin addict Ron's namesake son, Ronnie, was caught with when he was busted for prostitution. The young woman, Rachel, was a human trafficking victim. Strung out on heroin and younger than Ronnie's own daughter, she identified Ronnie from her jail cell in Saluda, Va., as the john she had sex with "on over 30 occasions" during a two-month period.
According to other police reports, Rachel wrote her father's phone number on the hand of another of her johns as he was leaving. Her pimp had taken Rachel's cell phone and ID card and wouldn't allow her to have any money. After that law enforcement investigation, the Feds got involved. They warned johns, including Ronnie, to steer clear so they could break up what appeared to be a drug and prostitution ring. Ronnie ignored an FBI warning, which is how he got busted.
Ronnie continued to use this drugged young woman, even having sex with her in front of one of her friends while her pimp was right next door. And, as the police report stated, Ron paid two girls $100 each for a half-hour threesome of "everything."
Her pimp, an admitted crack dealer, is serving a ten-year sentence in federal prison.
Ronnie was "guilty" of solicitation of prostitution.
Rachel was a victim; a victim Ronnie found on the ''backpage" website (he also liked a website called "Avenue-X," the escort guide and directory for Virginia, which promotes bondage, dominance, submission and masochism). Law enforcement considers these to be a cesspool of prostitution activities.
When the police interviewed Ronnie, he stated that he went to those websites to purchase topless massages. On one occasion Ronnie paid $100 for a massage. He was asked if he had previously paid Rachel and another woman for sex during the "massages." Ronnie stated that "he would like to answer the question truthfully but was affair that he would get in trouble if he did so."
What caught Ronnie's eye? Maybe it was her ad describing her as "spicy hot" and "…not just for your viewing pleasure. The real deal."
Is "the real deal" the same interest in massage parlors all over Virginia?
GET THE WHOLE STORY! Read: Sex in the Cities.
Read the whole story on Ronald T. Miscavige's Cover Up.
See the police documents: Ronald Miscavige arrested for prostitution. Police records show that one young woman, Rachel, told police that she had sexually serviced Ronnie 30 times over a two-month period. On one occasion, she and another prostitute serviced Ronnie together for a 30-minute threesome that included "everything," Ronnie paid each $100.
Read: The tragic human trafficking story Ron Miscavige Wants to Hide
"Yummy. That's an angle I haven't seen you from! I'm impressed and hard as a rock!"
Read: Even the National Enquirer Saw Through Ron's Cover Up.